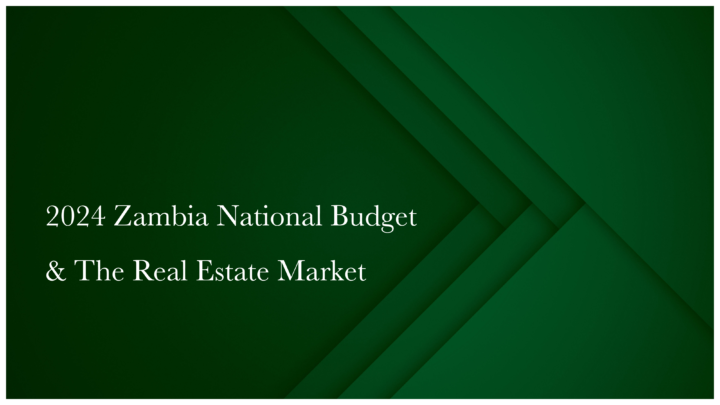 A review of the 2024 budget and the performance of the 2023 budget has brought some interesting insights into what to expect for the real estate market performance in 2024.  I do acknowledge that several of you have already received budget summaries and insights and as such we will not delve into those numbers that you are already aware of.
There is great emphasis on the direction that Government is taking regarding focus areas in the economy for 2024, in line with the Eighth National Development Plan (2022 – 2026), which are:
Economic Transformation and Job Creation
Human and Social Development
Environmental Sustainability
Good Governance Environment
Of each of these thematic areas, there are reaching implications for the real estate sector in Zambia.
In the 2024 budget the agricultural, mining, education and tourism sectors are set to benefit from not only budgetary allocations, but policies being put in place to increase investment in these sectors. Highlights include the following:
 
 
 
 
SECTOR
AMOUNT
PURPOSE
OPPORTUNTIES ON REAL ESTATE
Agriculture
ZMW13.8 bn
Various interventions in the agricultural, livestock and fisheries sector

Warehousing and storage Facilities in outlying areas

Agriculture
ZMW186.0 mn

Allocation for the establishment of a financing and credit window for small scale farmers, public service workers and emergent farmers

Purchase of agricultural small holdings
Transport and Logisitics
ZMW700 mn
Rehabilitation and upgrade of Mansa, Mbala, Mongu and Solwezi Airport

Warehousing, residential accommodation; and office space for ancillary services to the sector

Transport and Logistics, Energy
ZMW598.4 mn

300km of roads, 10 bridges, 200 km of power lines for the Electrification of Farming Blocks – Luena, Lusiwishi and Shikabeta

Warehousing, residential accommodation; increase demand for agricultural land;
 
Tourism
US$100m under the Green Resilient and Transformational Sector

ZMW765 mn

Infrastructure at Kasaba Bay, Air and Road connectivity to South -West Tourism circuit

Tourism infrastructure, marketing, wildlife management,

Tourism accommodation – lodges, bush camps, Residential accommodation for staffing

Warehousing and retail facilities to service new developments

Education and Skills Development
ZMW27.4 bn

Completion of 69 schools

Additional 202 schools

Recruitment of 4,500 teachers

Residential housing

Warehousing

Retail and convenience centers

Health
ZMW20.bn

Construction of 30 maternity annexes

135 mini hospitals

Residential housing

Retail and convenience centers
The opportunities for residential housing developments lie outside the traditional investment areas of Lusaka and the Copperbelt as government rolls out infrastructure in the rural areas which will soon become emergent areas.  The growth of these areas will depend upon the pace of development during the year.  The secondary effect of increased activity in the construction sectors is normally the investment into real estate and predominantly residential real estate as a means for future securitization of financing required as construction companies grow their portfolios for an improved balance sheet.